Mini skirts are fun and fashionable items. And its a first choice for girls who want to look bold and beautiful. From pencil skirts, lampshades, to tube and tulip styles, skirts are there in various sculpted shapes, tiers and ruffles, in most exciting colors. This outfit is best for gals who are slim and have longer legs. Girls with a petite frame and whose weight is above average are not suitable for mini skirts.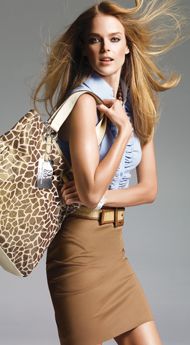 No doubt, minis are the most favorable way to look bold and gorgeous.But wearing a mini skirt with grace and style requires some
tricks to maximize the beauty which it offers
. This article will explain some skills to wear a short skirt with class.
Always choose colors which speaks your beauty and personage. Colors like navy, black, browns and pastels are the first choice for mini skirts.
Team your mini skirt with a top not revealing too much. Jackets, tunics, and ruffled tees adds sophistication to your skirt.
Wedge shoes work well with minis because their heaviness counterbalances their shortness and provides an "anchor". Heels also look great on minis.
Be sure to sit with knees demurely together, or make your legs crossed at ankles or perhaps calves and while bending down, be sure to bring your bottom down as you do so.
If you feel uncomfortable showing too much leg, then choose a mini skirt which has in-built shorts. Leggings paired with flats is also a nice alternative.
Choose length which suits your height. Long girls should avoid micro-minis or minis with a much shorter length.
Mini skirts are not only for teenagers. Elder women can also wear them; required that skirts are pleated or have a wider sense, with leggings for a comfort walk...
Popular
stores
you would like to browse for
women clothing
at
DealRocker