Beaded jewelry is appreciated all over the world for its availability in gorgeous rainbow colors, easy-match quality and affordability.

Beads are quite similar to precious gems, and can be found in wide range of materials and shapes. They can be of glass, wooden, ceramic, or plastic with a round shape, teardrop, or an oblong design, among many others. Beads of different materials and shapes can be mixed to create a fabulous personal sense of style. Natural beads cut from semiprecious stones are unique for their own color characteristics and natural details.


If you're trying to have a glamorous ambiance, then an over-sized beaded necklace shown above, will just do that. This opulent and beautiful cool blue agate evokes the spice of summer coolmint. It will provide a bold statement and is sure to get you noticed.

To add a little Latin pizazz to your look, wear long and layered beaded necklaces with matching chandelier drop earrings and beaded bracelets. This will go great with a ruffled blouse or plain white tee that will pull your outfit and add spice to the look.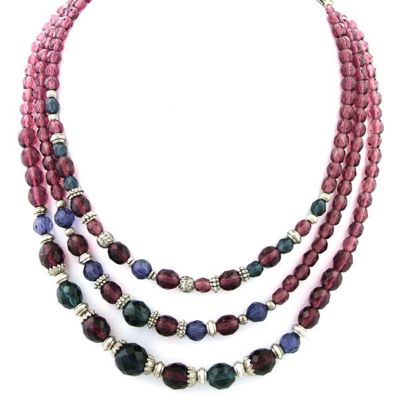 These necklaces can be easily dressed up with jeans and a matching strapless or spaghetti top for a girls' night out. Alternatively, chunky bead necklaces can be humbly worn to accent a professional or business outfit.

Women with broad necks should avoid heavy beaded necklaces because it will make them look more heavy. While small beaded and single layered ones tied loosely to the neck will do a perfect job for them.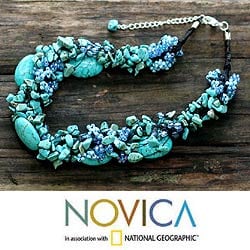 Popular stores you would like to browse for Beaded Necklace and other Jewelry items at DealRocker