Wedding ring is not only an important element of becoming married, but also a lifelong symbol of love and commitment. But don't let the sobriety put you off while choosing a wedding ring. It should be of high quality, enduring and stylish as both of you will be wearing it for rest of life. It can be one of the most exhilarating parts of your shopping list. We'll help in choosing a right one by following considerations!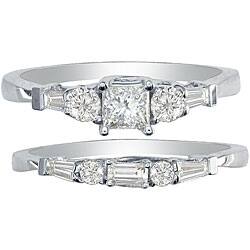 Look for a design and style, asking yourself if it will be comfortable to wear every day for whole life.
Choose that ring which is expressive to one's style and personality.
Yellow Gold is a symbol of warmth and love of marriage. So, while selecting gold ring look at mark inside it to know what quality, the gold is. It may be 14k, 18k, or 24k(pure but soft gold). Remember more the caret, more you have to pay.
Today's hot trend among jewelry metals is White Gold, because it coordinates with both silver and gold jewelry, and is less expensive than platinum.
Platinum, no doubt is a very expensive, stylish and hardest metal, but it also have one more amazing quality; it is safe for those with allergies as it can't be mixed with lesser metals as gold does.
Softer stones can be beautiful, but aren't best choice for wedding ring. Anything less than a Mohs scale 7, is not recommended for a wedding ring. Mohs scale registers a stone's ability to resist abrasion.
Looking for precious gems in a ring, then limit your selection to diamonds, rubies, sapphires, and emeralds as they are among top rankers of Mohs scale.
While choosing a diamond ring keep "the four Cs" in mind, that's color, clarity, cut and caret. The more colorless a diamond is, the more precious and costly it is.
Always get an AGS Certificate or a GIA Certificate verifying quality of your diamond.
By considering these guidelines, one can purchase a best wedding ring. Have Fun!!
Popular
stores
you would like to browse for
Rings
and other
jewelry items
at
DealRocker