Shopping for maternity clothes is one of those special and most liked activities that every expectant mom look forward to. The way of maternity clothing have changed quite a bit in style over the years. Women now have much more options than ever before and are very relaxed and comfortable in type of clothing they wear, during this special period in their lives.

Winters are coming near, and it's the right time to shop warm maternity apparels for upcoming cold weather. Maternity clothes should be somehow loose and comfortable as well. But that doesn't mean you have to sacrifice your styling and fashion statement for this. You can look even more stylish "mom-to-be" and enjoy that special feeling with a clever styling. Here are some really gorgy must-haves warm apparels for expectant moms from Gap Maternity. Have a look!

Hooded toggle coat – charcoal: Specially made for moms-to-be, this a warm, comforting coat that keeps you cozy from head to toe. Features classic details like a seamed hood, patch pockets, epaulets, and toggle closures. It has a swingy pleat in back that gives you room to grow. Made from supersoft wool/nylon blend, this coat has a cozy hood, zip front with toggle closures, epaulets at shoulders, flap patch pockets in front and button-tab details at neckline and cuffs.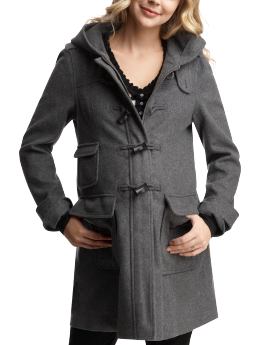 Wrap-style sweater dress - heather gray: Warm up to cooler weather in a classic chic sweater dress. It's so easy to wear and it can be matched with tights, flat or boots, and statement accessories like a bracelet, necklace, or scarf. Faux-wrap styling creates a silhouette that flatters and fits at every stage. It's a supersoft cotton/viscose/merino wool/angora blend sweater dress with cross-front neckline, tie sash at empire waist, and long sleeves fitted through the bodice with faux-wrap styling.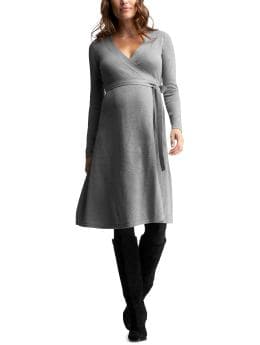 Striped ruffle henley sweater - true black: This ruffly sweater is perfect for festive feeling of season. It's super-soft and so flattering, that you'll want to live in this very versatile sweater. Henley-inspired V-neckline trimmed with ruffled pleats and buttons and cascading stripes make it even more fun. It has ribbed cuffs and is stretchy with a flattering slim fit.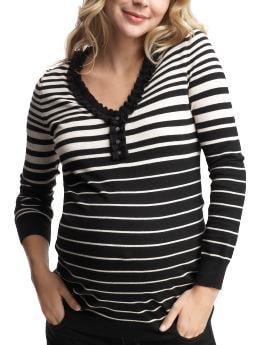 Shopping for maternity clothing doesn't have to take a lot of money, it just takes some planning.

Popular stores you would like to browse for Maternity Clothing @ Dealrocker