Spring is one of the most beautiful seasons of year, loved by everyone. It is a sign of beginning of new season after cold and chilly days. Coming of earth back to life, blooming of first flower, all these are signs of spring season. In this time, you can see beauty of different kinds of spring flowers. Soft, fresh and floral fragrances get spread everywhere. How about a beauty product that has same aromatic fragrance intact in it! It is a well known fact that women love to use floral perfumes, body moisturizers with essence of flowers and other products. L'Occitane has pounced on same idea.
L'Occitane presents Cherry Blossom collection which has fragrance of cherry blossom and its fruit. Cherry tree changes its color according to season like pure white in spring, bright red in summer, and soft green in autumn time. Cherry fruit and its blossom is very beneficial for skin. Cherry Blossom collection features three feminine scents named as classic Cherry Blossom, Limited edition Cherry and limited edition Wild Cherry. You can find effective products such as fragrances, hair products, lotions, shower gels, scented candles, hand creams and other skin care products in this collection.
Wild Cherry Eau de Toilette:
With its white flowers and noble wood, wild cherry tree is most ancient and have precious varieties of its kind. It is also favorite amongst small birds, who love its fruits which are filled with sweet elixir.  Tender and mouth-watering touch of Provence. This woody and fruity Eau de Toilette offers fragrant interpretation of cherry tree. Scent of wild cherry blossom mingles with berries, before settling into soft and woody base.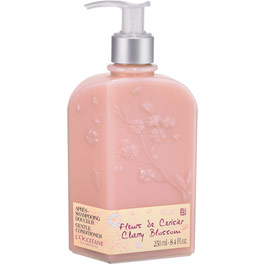 Cherry Blossom Gentle Conditioner:
Experience pleasure of delightfully fragrances cherry orchard in South of France. This creamy conditioner is enriched with cherry fruit kernel extract, and immediately softens and perfumes hair with fresh and enveloping Cherry Blossom fragrance. It is truly best for all types of hair.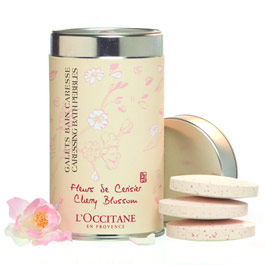 Cherry Blossom Caressing Bath Pebbles:
Delicately perfumed with enveloping flowery scent. Use in bath water to create soft and fragrant moment of well-being and relaxation. When added to bath water, these pebbles release effervescent sparkling bubbles which leave skin soft and delicately perfumed.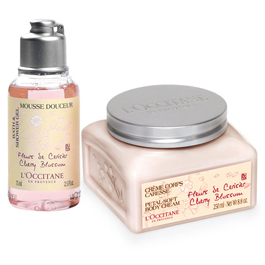 Buy Me, Try Me Cherry Blossom Duo:
Indulgent body cream, enriched with cherry kernel oil. This light and silky cream moisturizes your skin while leaving it soft and supple. It leaves behind delicate perfume of flowery, fresh and enveloping Cherry Blossom scents. Try complimentary travel size shower gel, which gently cleanses your skin, leaving it delicately perfumed with delicate and captivating fragrance.
Choose your favorite product for skin care, hair care or bath and shower products form
Loccitane.com
. Add freshness and spring cherry blossom fragrance in your every day life.