It's really true that beauty lies in eyes of beholder. Feeling confident and stylish is more important than just flaunting it. Latest fashion trends help in keeping one up to the minute. Back in time, fashion was limited to pencil sized models but in today's time, full figured women are one who have stolen limelight. From runway to fashion street, they have made their mark in big way. Many famous designers are designing stylish dresses for plus size women which complement their figure. In fact, these days, if a plus size woman want to update her wardrobe with trendy dresses and accessories, then surly she'll find several options at online stores.
Sometimes, one can get confused about what to buy and what not as many designer plus size dresses are available. Always pay attention on colors and functionality of dresses without sacrificing style. Famous online stores offer endless options to choose perfect plus size outfit without ignoring elements of fashion, comfort and style with self-expression.
LaneBryant.com
is ultimate name known for fashionable and trendy plus size clothing along with trendy accessories. They also provide useful fashion tips for plus size women. Have a look on one stunning ensemble at available at Lane Bryant.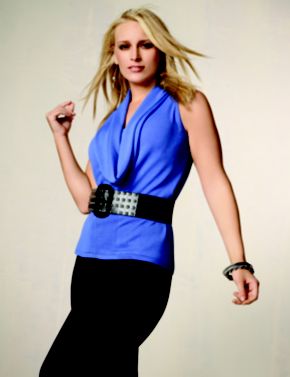 Sleeveless cowl neck sweater:
Flattering sleeveless top is highlighted by stylish deep cowl neck with an extra layer of fabric underneath. It provides full coverage and give stylish look. Ribbed band down center adds style and texture.
Pyramid stud belt:
Wide fashion belt is highlighted by its four rows of silvertone pyramid studs. It's a great way to add style and shape to dresses and tunics. It has single prong with shine black buckle .
Right Fit Houston pant:
You'll love popular Houston pant with right fit. Updated detailing includes slash and faux trouser pocket on front. Button and flap accents on back look like pockets. Waistband features double belt loops and notched back with buckle detailing. It has button closure with inside waist button.
Beaded bangle bracelet collection:
To complete the stylish look, pick beaded bangle bracelet. A style essential, this eclectic collection of bangles provide variety of finishes and textures. It is perfect for matching and mixing. Engraved with nickel and lead-free metal.
Pick up a stylish outfit and dazzle cocktail to formal parties with stylish confidence!